EXTREME
WHEN THE FIRE RISK IN THE GULF ISLANDS IS EXTREME outdoor or incinerator burning is
not

allowed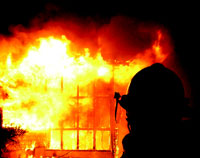 Please
Watch those cigarette butts - a careless toss and we could experience a wildfire
Be vigilant and alert - Call 911 immediately if you see or smell unexplained smoke
Observe the total ban on all open burning
all high risk/industrial activity must cease except with the written permission of the Fire Chief
In EXTREME fire risk conditions fires will start very easily and spread very quickly. During these conditions it is simply too risky to take unnecessary chances.
Balancing fire risk safety with economic consequences
PIFR is committed to ensure that the community remains safe from wildfires and that the economic impacts of work closures on jobs and projects are minimized through sound risk management principals.
The Fire Chief or designate has authority under CRD Bylaw 3452 to issue written permission to work during times of fire restrictions or closures. Permits may be issued providing suitable fire safety plans and prevention measures are implemented to mitigate the fire risks. Permits may be obtained from Fire Hall #1.
Capital Regional District Bylaw 3452
The following definitions are from CRD Bylaw 3452 and apply to work allowed during High or Extreme Fire conditions. Bylaw 3452 is supplementary to the Wildfire Act and Forest practices Code which must also be referenced prior to starting any work during High or Extreme fire conditions.
( full text )
"High risk activity" means each of the following: mechanical brushing, disk trenching, preparation or use of explosives, using fire- or spark- producing tools including cutting tools, using or preparing fireworks or pyrotechnics, grinding, mechanical land clearing, log forwarding other than by logging truck on a road, skidding logs, yarding logs using cable systems, using a vehicle with metal tracks, chains or studs, operating a power saw, clearing or maintaining right of ways, including grass mowing, rock drilling, tree processing including de-limbing, welding, portable wood chipping, milling, processing or manufacturing.

Note: Spark producing tools includes lawn mowers with metal blades, gas weed-eaters, and other small motors that may produce sparks near grass or forests.

"Industrial activity" means activities that include debris piling, mechanical modification of forest debris, railway operations, utility transmission operations, mining operations, silviculture treatments as defined under section 1(1) of the Forest Planning and Practices Regulation of B.C. Reg. 14/2004, wood milling, processing and manufacturing, timber harvesting, road construction, road maintenance or road deactivation, yarding logs using helicopters or lighter than air vehicles, operating power saw, loading logs or use of machinery on a road or a landing or in a log sort area.

Note: Road construction and mechanical modification of forest fuels includes the use of rubber tired machines and excavators to build driveways and/or move branches, duff or trees within 300 meters of the forest.
The CRD Bylaw can be reviewed in full on the CRD website Bylaw 3452
The Wildfire Act
When the threat of forest fire is high to extreme, the Wildfire Act places restrictions on a range of activities within 300 metres of forest land or grass land. These activities are wide ranging and include using chain saws, wood chipping and grass mowing.
Restrictions are set out according to the level of the fire risk and the duration of the risk.
Persons responsible for starting wildfires can be held responsible for all fire fighting costs ($1.2 million on Galiano Island in 2006) and are subject to fines up to $1 million dollars or to imprisonment of up to three years or both. Do the math and make sure you understand your responsibilities.
Forest Fire Prevention & Suppression Regulation of the Forest Practices Code of BC Act
Contractors and other persons working on the land base are also subject to the forest fire prevention provisions of the Forest Practices Code.
To review your obligations under this Act, click here.
Together we can have a safe and fire-free summer - but it requires the cooperation of every single person on these islands
The Pender Island Fire Protection Society and the CRD Director endorse the Provincial "FireSmart" program which is designed to reduce the risks and consequences of a wildfire
When the fire risk is:
HIGH
Outdoor or incinerator burning is
not

allowed in July, August and September under CRD Bylaw 3452; and when the "NO FIRES ANYWHERE" signs are posted.
... do work & chores before 1 p.m.
When the fire risk is high activities that may start a fire must be completed before 1 p.m. each day. You should think about the sparks from exhaust, sparks from blades hitting rocks or other metal, friction and other sources of heat. You must have water available and ready, should a fire start. If you need to work with these tools use them in the mornings when the relative humidity and fuel moisture is highest and temperatures are cooler. You must stay on site and watch the area for smoke for two hours after you finish your work. If you do this, and have some water on hand you will not likely start a large fire.
Why 1 p.m.?
The reason for 1 p.m. is simple: If a fire does start there is a much higher chance that it can be contained before dark if it is reported early in the day. Fires will grow in size after dark. It is extremely dangerous and sometimes impossible to fight fires in dense smoke and darkness. Water bombers and helicopters must return to base one hour before sunset. If it is windy a small fire could grow to involve most of Pender Island between sunset and dawn. We must have the time to contain fires in daylight or we may all be looking for another place to live.
When the fire risk is:
MODERATE
Outdoor or incinerator burning is
not

allowed in July, August and September under CRD Bylaw 3452; and when the "NO FIRES ANYWHERE" signs are posted.
All outdoor activities must be conducted with caution.
In the fall, winter and spring there may be activity restrictions including:
After three consecutive days of "Moderate" fire threat, maintain a fire watcher after work for a minimum of one hour. Continue this until after the fire danger threat falls to "Low".
In the Spring and Fall Shoulder Seasons, Apr 1-Jun 30 and Oct 1-31, Burning Permits are required; see the bylaw information below.
From Nov 1st-March 31st, permits are not required but burning must be conducted in accordance with the regulations stated in the Bylaw.
In the shoulder seasons, permits may be available.