Pender Island
Fire
Rescue
911
Pender Islands Fire Protection Society
94 emergencies attended this year as of June 21
Outdoor burning ban in effect - no fires anywhere.
Morning shift only - Cease activity by 1 PM and maintain a fire watch for at least 2 hours after work.
Details on Forest Fire Threat Level
Pender's Mike Dine appointed Fire Chief in Whitehorse
Please join us in congratulating Deputy Fire Chief Mike Dine on his appointment as Fire Chief for the City of Whitehorse in the Yukon Territories. Chief Dine has also completed 20 years' service with PIFR as of June 1st.
Please come help us celebrate these milestones: Sunday June 10th – 2:30 to 5:30 at the Pender Island Golf Club. Presentation at 5 p.m. sharp.
This appointment means Mike and Kelly Dine are moving north and it would be great to send the Dine family off in true Pender style.
Mike started his fire career as Chief of the South Pender Department and following the amalgamation of the North and South Pender departments, soon took over the Deputy Chief's position for the combined department we now know as Pender Island Fire Rescue (PIFR).
Chief Michael Dine won a national competition to earn the Whitehorse position, and in doing that, made all of us at PIFR very proud. The fact that a PIFR officer was selected for this position, speaks volumes about Mike's professionalism and the depth and credibility of PIFR's training and education programs. We have some amazing people at PIFR and Mike's accomplishment clearly shows the true value of our staff and volunteers. They are professionals in every sense of the word and we owe them all our heartfelt gratitude.
Mike has earned my deepest respect and admiration and I know this is shared by all the great volunteers and staff who have been associated with this amazing organization for the past 20 years. His unique management skills, talents and values have nurtured our organization toward excellence and those same traits have thoroughly impressed other people also.
Mike has been recognized by the Lieutenant Governor of BC as a safety superhero, by the Training Officers Association of BC as 'Trainer of the Year', and by the Fire Commissioner of BC for his work in fire prevention and training program development. Mike's passion and expertise helped us make PIFR all it is today. He was the driving force behind our coveted 1001 training programs, our cadet program and camps, our fire prevention and inspection programs, our inventory control programs, our officer development program and our incident command simulator training, among others.
There is really no way to truly recognize all Mike has done for PIFR and this community, but we hope in some way to show him how very much his work is appreciated. We also need to recognize Kelly and the rest of the family. Jazz and Mack went on to serve PIFR as fully qualified firefighters. Cole, Jazz, and Mack entertained us, fed us and washed dishes in support of the cadet camps and many other functions. Kelly was a godsend in making the cadet camps, Christmas parties and a host of other events successful. She gave so much of herself to PIFR that is impossible to quantify in words. The Dine family's contributions to Pender Island and PIFR are nothing short of remarkable. We thank them all so much for the love and care they have brought to our island and wish them health, safety, and happiness as they move on to their next adventures.
Please join us in thanking Chief Dine, and congratulating him on his new appointment.
GOOD LUCK CHIEF DINE!
Just give us a call if you ever get stuck!
---
our new training facility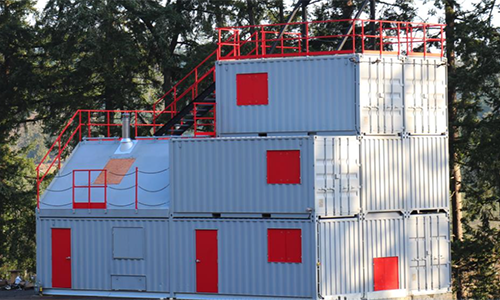 For more information, please, click here: Training Facility Project Overview.pdf
---
We are pleased to report that Pender Island Fire Rescue meets the standards stated for "Full Service Fire Departments".
NEW MINIMUM TRAINING STANDARDS ESTABLISHED FOR FIREFIGHTERS IN BC.
Office of the Fire Commissioner
Effective: October 14, 2014
Effective this date the "Structure Firefighters Competency and Training Playbook" is established as the new Minimum Fire Training Standard for the Province of British Columbia, pursuant to section 3 of the Fire Services Act. This replaces the training standard that was previously established on January 1, 2003.
This new standard sets out the requirements to be met based upon the service level identified by the Authority Having Jurisdiction for the provision of fire services in each community. The standard references competencies drawn from the National Fire Protection Association (NFPA) Standards.
Fire departments and AHJ's should refer to the "Playbook" to determine the specific requirements for their community. Questions and clarifications can be directed to the Office of the Fire Commissioner and/or the B.C. Fire Training Officers Association for assistance.
The "Playbook" is intended to be a 'living document' that will be reviewed and updated periodically. Input or suggestions from the fire service and AHJ's is welcome. In addition, frequently asked questions will also be addressed in a "Question & Answer" type document that will be posted on the OFC website. www.embc.gov.bc.ca/ofc/
Gordon Anderson
Fire Commissioner
Province of British Columbia
The new standard ties the level of service that can be delivered in any community with firefighter levels of training and is designed to prevent firefighter deaths and injuries. The implementation of the standard is supported by the Fire Chief's Association of BC and the Fire Training Officers Association of BC.
You can view the entire text of the document at: www.embc.gov.bc.ca/ofc/pdf/playbook.pdf
---
Thank you!
PIFR would like to express our sincerest of thanks to all the members of our amazing community for your ongoing support and generosity in giving to the training ground project. Thanks to the Conconi Foundation and NU to Yu that so generously supported this project with $110,000 and $25,000 respectively. More than $210,000 was raised to complete Phase 2 of the project.
---
It's the law: Older buildings must have smoke alarms
A new law requiring all older buildings and homes to have working smoke alarms went into effect Saturday, May 2, across B.C.
The changes to the B.C. Fire Code mean every private dwelling, hotel and motel room built before 1979 must have a smoke alarm.
The B.C. government says battery-operated smoke alarms are allowed in these older buildings where putting in hard-wired electrical devices might prove too difficult or expensive.
The Ministry of Public Safety states that some battery-operated smoke alarms may be less reliable than alarms that have been hard wired to a building's electrical system because they require occupant maintenance and are more easily disabled intentionally or inadvertently.
However, the significant cost of installing smoke alarms integrated with a building's electrical system is likely to discourage their installation in older buildings.
Pender residents who can't afford to equipment their dwellings with battery-operated smoke detectors can get one free at Hall #1.
Any building built after 1979 in the province already needs to have smoke alarms, and municipal bylaws in most areas govern their installation and maintenance.
Homeowners should test smoke alarms regularly and check when they were made. A smoke alarm more than 10 years old should be replaced.
---
MP, ELIZABETH MAY, BC FIRE COMMISSIONER, REBECCA DENLINGER, AND The CANADIAN ASSOCIATION OF FIRE CHIEFS PRESIDENT, STEVEN GAMBLE COMMEND FIRE CADETS ON THEIR SUCcESSES AND PRAISE VOLUNTEERS FOR EXTRaORDINARY LEADERSHIP AND CONTRIBUTIONS TO DELIVER A SUCcESSFUL 2013 FIRE RESCUE CADET CAMP.
---
Pender Fire's Public Education Team brings CPR and Fire training to our Frontline workers in the community.
Courses are being run at Fire Hall #1 by registration only. For more information please contact Deputy Chief Mike Dine.
Emergency Training for the Frontline Workers.pdf (226K)
---
Home fire safety assessment
As your neighbour here on Pender, we'd like to help you ensure that your residence is as Fire-Safe as possible. To see a check list to use in assessing your home please go to:
Home Fire Safety Assessment Checklist.pdf (560K)
Visitor Fire Safety Assessment Checklist.pdf (725K)
---
Deputy Chief Mike Dine receives 2011 British Columbia Lieutenant Governor's Award "Exceptional Contribution to Public Safety"
The BC Safety Authority has dubbed our very own Deputy Chief Dine a Safety Super Hero! Following is a quote from the award presentation:
" Dine has developed a leading volunteer fire fighter training program that is recognized as a model for volunteer departments across BC... Dine does all of this and more as a volunteer because of his passions for safety and giving back to the community."
BC Safety Authority
We are very fortunate to have such a dedicated professional leading our training and fire prevention teams. His work developing our training program has been recognized by the Fire Commissioner of BC as a model for fire departments across the Province. His passion for fire prevention serves us all. Most importantly that work ultimately keeps us and our volunteers safe. Training is the key to keeping our volunteers safe in their efforts to protect our safety, homes and property.
Congratulations from all the gang at PIFR!
---
Pender Island Fire Rescue, Pender Islands Fire Protection Society Operational and Governance Review
April 2012
---
October 4, 2011
Chief Charlie Boyte named "Volunteer Chief of the Year"
Pender Island Fire Rescue (PIFR) Chief Charlie Boyte has been named "Canada's Volunteer Fire Chief of the Year" by the Canadian Association of Fire Chiefs.
Association President, Hamilton Fire Chief Rob Simonds, praised Boyte's strong commitment to training that has resulted in all responding firefighters at PIFR being certified at levels often associated with full-time fire departments.
There are 3,200 volunteer fire departments across Canada that comprise of 91 per cent of all departments and 77 per cent of all fire fighting personnel.
The national president also noted that "Fire Chief Boyte's innovative job sharing program has seen the recruitment of dozens of Pender Island citizens as non-firefighter volunteers."
The result has been a dramatic increase in community support and a 30 per cent reduction in suppression firefighters' time in performing non-responder duties, Fire Chief Simonds said.
Chief Boyte said: "I have been given a great opportunity to nurture a culture in the fire service that honours service to people as we safeguard our communities.
"There is a lot of work to do across this nation to ensure our families and communities are secure. This is especially true in rural areas where countless committed fire chiefs are struggling to maintain high standards with stretched resources."
PIFR is also pleased to report that Deputy Chief Mike Dine has received the BC Lieutenant Governor's Public Safety Award which acknowledges "those who are dedicated to making our province a safer place to work, live and play."