Pender Island
Fire Protection
Society
911
Pender Islands Fire Rescue
121 emergencies attended this year as of July 2
Outdoor burning ban in effect - no fires anywhere.
Details on Forest Fire Threat Level
---
Pender Fire Rescue will be "Opening Burning" on North and South Pender Islands commencing June 22, 12 noon
Permits are required
Open Burning will be shut down if the Fire Danger Rating Reaches High for 3 consecutive days.
Opening Burning will cease on July 1 regardless of conditions in accordance with CRD Bylaw #3452.
Covid 19 is still with us, please be considerate of your neighbors. Don't burn if you don't have to.
Be Safe
Fire Chief Mike Dine
---
From all of us here at Pender Fire Rescue we would like to thank everyone who took part in the
FireSmart Chipping Program
Your feedback has been very positive and appreciative of the work our team put into this alternative to burning during the fire restrictions.
Have a wonderful and safe summer!
Thank you Pender Islands!
Fire Chief Mike Dine
---
Thank you to all who so warmly welcomed me home to Pender Island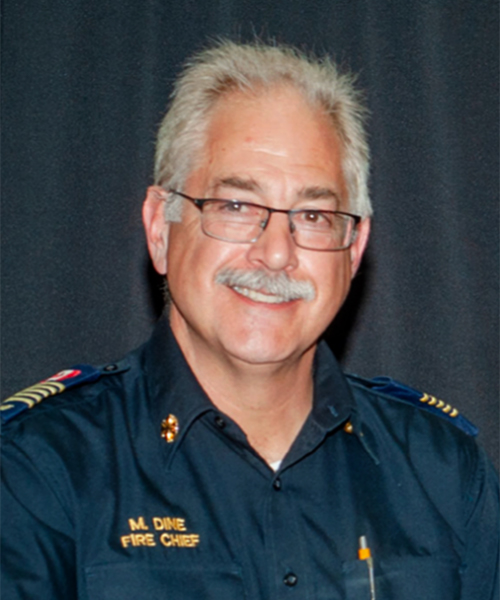 I am excited to be here serving as your Fire Chief. Charles Boyte has been instrumental in helping me through my first week, thank you Charlie for your time and sharing of your extensive knowledge.
As the Province guides us through opening up from the restrictions surrounding Covid -19, I look forward to the day we can meet in person. Until then stay safe!
Fire Chief Mike Dine
---
WELCOME HOME, CHIEF DINE!
April 10, 2020
The Pender Islands Fire Protection Society Board of Directors is pleased to announce that, after a long and comprehensive country-wide recruitment process, the position of Fire Chief of the Pender Islands has been offered to Mr. Mike Dine and he has accepted. We look forward to his return. Mike served as Deputy Fire Chief of Pender Island Fire Rescue for 14 years before taking the position of Fire Chief for the City of Whitehorse in the Yukon. He will be returning to Pender in early May to begin his new duties, replacing Fire Chief Charlie Boyte who is retiring after 33 years of extraordinary service to the department and our island residents.
In the words of retiring Chief Boyte: "It will take an exceptional person to lead Pender Island Fire Rescue through the next decade and I have no doubt that the Board has chosen absolutely the best person to pick up that torch. Chief Dine is fuelled by his passions for fire prevention, training, and innovation, as well as responder and community safety. Those passions won him the B.C. Lieutenant Governor's Award for Exceptional Contribution to Public Safety and the respect of fire services across this country."
"Chief Dine is a leader who respects and honours the values of our responders and the commitment they make to keep our community safe - values like integrity, empathy, concern, and compassion," adds Boyte. "He has also demonstrated an exceptional commitment to ensure these values are passed on to our youth at every opportunity through his work to develop our Cadet Camps and high school programs. His leadership, experience and passion are just what our firefighters and first responders need in their goal to seek further excellence in service to community. Pender Island Fire Rescue will be in very good hands. Congratulations Chief Dine!"
Once the COVID-19 threat has passed, a community event to honour and thank retiring Chief Boyte will be organized and announced.
The Pender Islands Fire Protection Society Board of Directors
---
A message from PIFR
For as long as it takes to get through this COVID-19 crisis, I want you to know that PIFR is prepared and ready to react to emergencies just as we always have done. Our members are staying safe, using appropriate protective equipment and will continue to deliver services with excellence because that is what they have committed to do.
That said, the COVID-19 virus is a formidable enemy. Limiting its impact will take the same level of cooperation from the community as we have seen during our worst wildfire seasons. We are responding daily to the recommendations of our provincial medical health officials and adjusting our protocols to minimize all foreseeable impacts to our responders, their families and our response capabilities.
We need you to be just as vigilant. Please listen to the advice of our health officers, practice social distancing, wash hands regularly and self-report if you get sick. A new number has been established to help you make that call. Please use 1-888-COVID19 (1-888-268-4319).
Most healthy people will have mild to moderate flu symptoms and get through this virus just fine if they contract COVID-19. Our most vulnerable populations, however, (our elderly and those with pre-existing medical conditions) really need all our help to stay safe and away from this virus. Please be socially responsible. Social distancing, self-monitoring, self-isolation and self-reporting are the best ways to contain and monitor virus spread. We can keep our cherished elders and at-risk people much safer if we follow these basic principles. Thank you all for your help to keep the community safe.
Please see the following link for more information:
http://www.bccdc.ca/about/news-stories/stories/2020/information-on-novel-coronavirus
Charlie Boyte, ECFO
Fire Chief
---
Pender Islands Fire Protection Society
The Pender Islands Fire Protection Society Annual General Meeting is POSTPONED due to the current world health situation.
The 2020 AGM date is to be determined.
Please watch for updates or contact Hall #1 for information: 250-629-3321 and this website.
---
NOW RECRUITING
Becoming a Volunteer Firefighter or a First Responder takes time, effort and dedication. However, the benefits of saving lives and making your community a better place is worth every minute and every ounce of effort. Click below for details:
---
GULF ISLANDS FIRE/RESCUE CADET CAMP - A SMASHING SUCCESS
Visit www.facebook.com/FIRECADETS/ to see the amazing videos and pictures.
The official website www.cadetcamp.ca
---

Wildfire Prevention for Your Home & Community
As homeowners we can take simple steps to reduce the probability and impact of wildfire on our properties and in our communities.
Wildfires are unpredictable and wildland housing intermix fires present unique challenges and obstacles. By being practical and proactive it's possible to reduce the risk of wildfire before it threatens our homes and community.
Please - Do not park on tall grass as modern car exhaust systems can be red hot and start a fire. No tossed butts. There are no fires allowed anywhere on the beaches or on North and South Pender. Be fire wise and use extreme caution when interacting in and around forested areas.
At Home
The FireSmart Homeowner's Manual (PDF) is particularly useful for identifying the changes you can make to help protect your home from wildfire.
Please report any fire or smoke immediately by calling 911.
---
our new training facility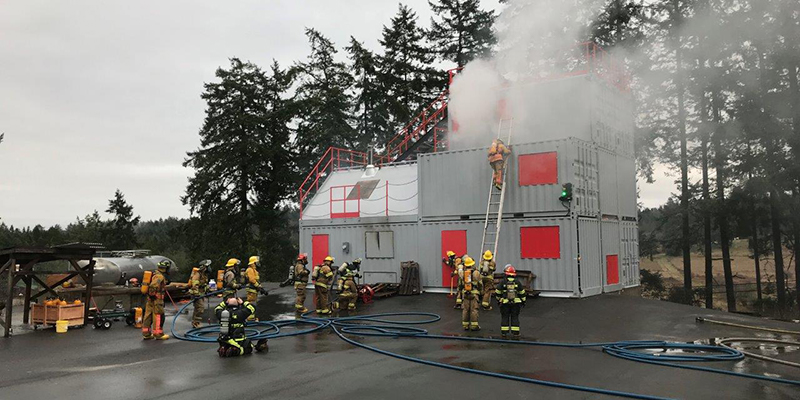 In January 2018, Pender Island Fire Rescue officially opened the Live Fire / Drill Tower Training Structure, completing the third major phase of our training facility development.
This achievement is part of a long-term strategy to develop Excellence in Service Delivery, whereby Pender Island Fire Rescue (PIFR) has been improving training facilities, developing instructors, and establishing agreements with educational institutions. PIFR recognizes that rigorous, challenging training is essential to recruit and retain the right volunteers. Competencies in a wide range of tasks are essential for firefighters to quickly and safely deliver effective emergency response services. Creating, practicing and sustaining those competencies requires qualified instructors, effective training plans and appropriate facilities.
This Training Facility Project Overview provides a detailed view of the training facilities, administrative and personnel development at Pender Island Fire Rescue.
For more information, please, click here: Training Facility Project Overview.pdf
---
We are pleased to report that Pender Island Fire Rescue meets the standards stated for "Full Service Fire Departments".
NEW MINIMUM TRAINING STANDARDS ESTABLISHED FOR FIREFIGHTERS IN BC.
Office of the Fire Commissioner
Effective: October 14, 2014
Effective this date the "Structure Firefighters Competency and Training Playbook" is established as the new Minimum Fire Training Standard for the Province of British Columbia, pursuant to section 3 of the Fire Services Act. This replaces the training standard that was previously established on January 1, 2003.
This new standard sets out the requirements to be met based upon the service level identified by the Authority Having Jurisdiction for the provision of fire services in each community. The standard references competencies drawn from the National Fire Protection Association (NFPA) Standards.
Fire departments and AHJ's should refer to the "Playbook" to determine the specific requirements for their community. Questions and clarifications can be directed to the Office of the Fire Commissioner and/or the B.C. Fire Training Officers Association for assistance.
The "Playbook" is intended to be a 'living document' that will be reviewed and updated periodically. Input or suggestions from the fire service and AHJ's is welcome. In addition, frequently asked questions will also be addressed in a "Question & Answer" type document that will be posted on the OFC website. www.embc.gov.bc.ca/ofc/
Gordon Anderson
Fire Commissioner
Province of British Columbia
The new standard ties the level of service that can be delivered in any community with firefighter levels of training and is designed to prevent firefighter deaths and injuries. The implementation of the standard is supported by the Fire Chief's Association of BC and the Fire Training Officers Association of BC.
You can view the entire text of the document at: www.embc.gov.bc.ca/ofc/pdf/playbook.pdf
---
Thank you!
PIFR would like to express our sincerest of thanks to all the members of our amazing community for your ongoing support and generosity in giving to the training ground project. Thanks to the Conconi Foundation and NU to Yu that so generously supported this project with $110,000 and $25,000 respectively. More than $210,000 was raised to complete Phase 2 of the project.
---
It's the law: Older buildings must have smoke alarms
A new law requiring all older buildings and homes to have working smoke alarms went into effect Saturday, May 2, across B.C.
The changes to the B.C. Fire Code mean every private dwelling, hotel and motel room built before 1979 must have a smoke alarm.
The B.C. government says battery-operated smoke alarms are allowed in these older buildings where putting in hard-wired electrical devices might prove too difficult or expensive.
The Ministry of Public Safety states that some battery-operated smoke alarms may be less reliable than alarms that have been hard wired to a building's electrical system because they require occupant maintenance and are more easily disabled intentionally or inadvertently.
However, the significant cost of installing smoke alarms integrated with a building's electrical system is likely to discourage their installation in older buildings.
Pender residents who can't afford to equipment their dwellings with battery-operated smoke detectors can get one free at Hall #1.
Any building built after 1979 in the province already needs to have smoke alarms, and municipal bylaws in most areas govern their installation and maintenance.
Homeowners should test smoke alarms regularly and check when they were made. A smoke alarm more than 10 years old should be replaced.
---
Home fire safety assessment
As your neighbour here on Pender, we'd like to help you ensure that your residence is as Fire-Safe as possible. To see a check list to use in assessing your home please go to:
Home Fire Safety Assessment Checklist.pdf (560K)
Visitor Fire Safety Assessment Checklist.pdf (725K)
---
Pender Island Fire Rescue, Pender Islands Fire Protection Society Operational and Governance Review
April 2012
---
October 4, 2011
Chief Charlie Boyte named "Volunteer Chief of the Year"
Pender Island Fire Rescue (PIFR) Chief Charlie Boyte has been named "Canada's Volunteer Fire Chief of the Year" by the Canadian Association of Fire Chiefs.
Association President, Hamilton Fire Chief Rob Simonds, praised Boyte's strong commitment to training that has resulted in all responding firefighters at PIFR being certified at levels often associated with full-time fire departments.
There are 3,200 volunteer fire departments across Canada that comprise of 91 per cent of all departments and 77 per cent of all fire fighting personnel.
The national president also noted that "Fire Chief Boyte's innovative job sharing program has seen the recruitment of dozens of Pender Island citizens as non-firefighter volunteers."
The result has been a dramatic increase in community support and a 30 per cent reduction in suppression firefighters' time in performing non-responder duties, Fire Chief Simonds said.
Chief Boyte said: "I have been given a great opportunity to nurture a culture in the fire service that honours service to people as we safeguard our communities.
"There is a lot of work to do across this nation to ensure our families and communities are secure. This is especially true in rural areas where countless committed fire chiefs are struggling to maintain high standards with stretched resources."
PIFR is also pleased to report that Deputy Chief Mike Dine has received the BC Lieutenant Governor's Public Safety Award which acknowledges "those who are dedicated to making our province a safer place to work, live and play."