Chief Charlie Boyte's report for April 2019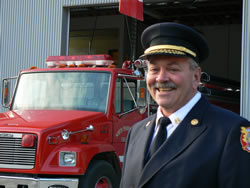 Greetings all. PIFR has responded to 47 emergency calls as of mid-March, a nine per cent increase over the same period in 2018.
According to the data, the 2019 wildfire season will be very active due to higher predicted temperatures and less precipitation; not good news when you live in a forested community. In these conditions fires can start easily spread quickly. However, there are many ways to reduce the impact of wildfire on your property and in your neighborhoods. The safety of your property and houses will depend on your efforts to be fire smart. Please visit https://firesmartbc.ca/ to learn more.
The Pender Islands Fire Protection Society (PIFPS), under contract to the CRD, defines the level and scope of fire and rescue services delivered here. The PIFPS elects a board of directors to manage its affairs and has been very fortunate to recruit experienced talent. The board has eight volunteer members and a ninth may be appointed. Everyone living on the Penders can be a member of the society by paying a $2 annual membership. The society AGM provides the opportunity for community feedback and is a necessary forum to gauge the board's success in achieving the goals of the society.
As your fire chief, I am responsible for daily operations of Pender Island Fire Rescue and for ensuring that necessary resources are available and that our team is capable of responding to a broad range of emergencies. I am also responsible for budget management and planning. I report to the board of directors monthly and to the PIFPS annually. The AGM is my opportunity to update and advise the society on PIFR's success in meeting those responsibilities.
Please look for the notice of AGM in this issue of the Pender Post and, if possible, attend on April 10th. Memberships are available at the door allowing you to vote on the issues that will shape the future of your fire and rescue services.
It is April and that means fire permits are required for all outdoor burning. Permits are available on this website and most workdays at Fire Hall #1 by the RCMP station. This website allows you to apply for a fire permit and pay online simply by clicking on "Fire Permits" in the navigation bar on the right side of the screen. You can also review the burning regulations through the tab on that page. If this online process does not suit you, just drop by Fire Hall #1 to apply in person and get an update on current regulations and conditions. The administration office is open Monday through Friday between 9:30 a.m. and 5 p.m.
If you purchase your permit on-line, print a copy or store it on your personal device so you have it available to show at all times when burning. Tickets for infractions can be issued by a variety of enforcement agencies. You must be able to show a valid permit if requested. Please remember you are responsible and accountable for any fire you light including any damages from an escaped fire.
Please burn responsibly and respect your neighbor's health and welfare. Smoke can be deadly to people with breathing issues or other health problems. A little talk across the fence can eliminate a health emergency or a complaint driven response by the fire department.
The change to Daylight Saving Time means it is time to replace smoke alarm batteries. All homes, structures and sleeping cabins must have working smoke alarms in all areas with sleeping accommodations. It is the law and you can be held accountable for injuries and deaths that result from neglecting these life saving devices.
Don't wait, check those smoke alarms today and above all stay safe.
Fire Chief Charlie Boyte
Previous Reports
2019
2018
2017
2016
2015
2014
2013
2012
2011
2010
2009