Chief Charlie Boyte's report for June 2019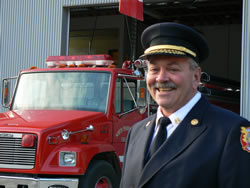 My first job for this month's report is to recognize a couple of people that I inadvertently left out of last month's article. In that article, I stated that two new members were elected to the board this year when in fact there were three: Theresa Carle-Sanders, Arn Berry, and Anna Herlitz.
Anna was elected to the board by the firefighters and will bring their perspectives to the meetings. Thanks for stepping up, Anna. Congratulations and apologies! The AGM also allowed us the opportunity to recognize outgoing PIFPS board members. Unfortunately, Paul Hutcheson was unable to attend, and I totally forgot to include him in my comments. Sorry Paul, and thank you so much for all your work on the board.
There were 18 calls for service in April bringing the total for the year to 67 and equal to the call volume recorded to April in 2018. May has been busy so far with 19 calls answered as of the 18th. That brings the year to date total to 86, approximately 12 per cent higher than the same period in 2018.
Fire season arrived early. The warmth and drying at the end of April and early May raised the fire danger rating to "high" on May 10th. I don't recall a year when we reached high that early. When the fire danger rating reaches high, there is increased risk of wildfire. Open burning can result in fires that are entrenched in the forests' root systems and deep duff. Entrenched fires can burn underground undetected and resurface much later in summer months with disastrous results. Therefore, we halted outdoor burning on the 10th.
PIFR will be focused on wildfire prevention, education, and early response over the next few months. This spring, we are already seeing homes threatened by wildfires elsewhere in BC and Alberta and south of us. As a preventive measure, we will again be delivering our SGI Wildfire Prevention Program at the BC Ferry terminal at Swartz Bay, the Farmers Market and the Driftwood Mall.
Some challenges to consider: Our fire halls are not staffed full time like they are in the city, and it takes longer to get the fire trucks to your door. Water for firefighting is scarce and often not easily accessible. There is a proliferation of dry fuels, grass and underbrush under the forest canopy and there are fine dry fuels along roadways. And, most homes are close to forested land. These challenges place us at significant risk.
Wildfire risk increases exponentially with more people, and through to October, we will see an influx of visitors and seasonal residents. Often these folks are unaware of the wildfire risks. We need your help to educate your neighbours and visitors. We need you to immediately report unattended fires, careless behaviours that might cause fires, and any smoke of unknown origin. Early reporting and response are essential. You must endeavour to keep your homes fire safe inside and out because house fires start wildfires and vice versa. Your smoke alarms must be working, and you know to get out and call 911 immediately. Evacuating an island is a challenge we will do everything in our power to avoid.
Our "NO TOSSED BUTTS" campaign has started to prevent this risky behaviour.
Some simple truths prevail. If it looks dangerous or unsafe, it probably is. Call 911 immediately and let a professional dispatcher decide an appropriate response. The best way to get emergency medical help is to call 911 because doctors are not at the clinic 24/7. And, if we can't find you, we can't help you, so make sure your street address is visible day and night.
Remember, house fires can spark wildfires. Use the checklist on this website to see how your house measures up and how you can prevent fires from starting.
Until next month, stay safe.
Fire Chief Charlie Boyte
Previous Reports
2019
2018
2017
2016
2015
2014
2013
2012
2011
2010
2009