Chief Charlie Boyte's report for March 2018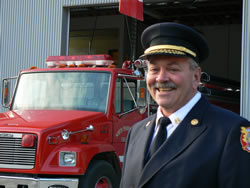 PIFR has responded to 28 calls for service to February 18 in 2018 which is fairly typical for this time of year. The exception was last year when we had already attended 40 by this time.
There is a unique sense of safety and security inherent to island living. Some of this feeling is created by the restricted access, lower population densities and relatively low crime rates. Or at least it seems that way. This month I would like to talk a little about the realities of providing emergency response in rural areas. In February of this year the National Fire Protection Association (NFPA) released a new report on Canadian Fire Departments that I think helps. Here is some of the data from that report.
There were 152,650 career and volunteer firefighters in Canada during the period 2014 to 2016; 83 per cent (126,650) were volunteer firefighters. It is important to note that the number of volunteer firefighters has decreased by 12.2 per cent from the previous period. This is a trend that we are seeing across North America and one that is placing some strain on our volunteers as it places them under added workloads. This situation is further compounded as our smaller fire departments struggle to meet more stringent health, safety and training standards designed to protect our volunteers from harm with limited funding.
The report also notes that nationwide it is more expensive for small communities to maintain their fire services because it takes a minimum number of pieces of apparatus and stations to operate a fire department, regardless of the number of people protected. We have seen some amazing support from our community for our training center, but we cannot become complacent when it comes to funding. The Pender Island Fire Protection Society has charitable status so if you need receipts for tax purposes please think about PIFR.
Our responders face the same types of emergencies and hazards as those in urban centers; just not as often. Unlike cities, however, we have the added challenges of narrow roads, difficult access and extended travel times. The lower call volumes creates a hazard curve paradox. Typically people get really good at something they do often, but are not so good at things they do not do regularly. Addressing this paradox requires our volunteers to train more often to maintain their essential skills.
We are very fortunate to have 36 responding members committed to doing just that; 28 are trained and accredited to the internationally accepted NFPA standards. This training takes more than 300 hours. Most are also trained for specialty operations such as hazmat, rope rescue and automobile extrications. These are jobs usually performed by specialist teams in urban centers.
Typically, in March, residents like to get a jump on spring cleaning in the yard. And, many take advantage of the fact that burning permits are not required until April 1st. Please check for changes due to drying conditions. Check the upper left hand panel of penderfire.org. Please adhere the regulations posted on the site.
A cause of excessive smoke is the burning of green debris and leaves. This can be very harmful to someone with respiratory problems. Please be considerate of neighbours and extinguish your fire if the smoke is impacting them.
Until next month stay safe and remember smoke alarms save lives.
Fire Chief Charlie Boyte
Previous Reports
2018
2017
2016
2015
2014
2013
2012
2011
2010
2009