Chief Charlie Boyte's report for February 2019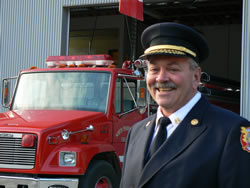 The men and women volunteers at PIFR were busy in 2018 attending fires, accidents, medical emergencies, protecting us through an extended period of extreme wildfire risk last summer and then coping with the severe windstorms and damage in December. In total, our responders attended 310 emergency calls.
The variety of emergencies we see each year leaves us a little unsure what the future may hold, but there is one thing that remains steadfast: When you call 911 for help on the Penders, someone will come, who knows what to do to help you through that emergency. That is the security we all enjoy thanks to the commitment of our PIFR responders and support crews.
That commitment was crystal clear during the windstorms in late December. There were 79 incidents of which 68 were answered between December 20 and 31. I was away on vacation over this period, and it should be noted that Assistant Fire Chief Adrian Hanson, who was Acting Chief during the windstorms, did an exceptional job during that very trying time.
We owe A/C Hanson, Lieutenant Jon Grelik, and all our crews our gratitude for their professionalism and for their sacrifices of family time over the days leading up to, and after, Christmas as they dealt with these extraordinary events. This was a significant test of PIFR as a whole; one that, I am pleased to say, PIFR passed with honours.
Despite blocked accesses across the islands, our responders managed medical calls, a motor vehicle accident, a chimney fire, multiple downed power line calls, and the safe escort of our Pender school children around downed lines. A/C Hanson and the RCMP coordinated the massive effort to keep island residents safe under a joint command structure.
Our SGI emergency program area coordinator, Brigitte Prochaska, worked tirelessly with BC Ferries, BC Hydro crews, Mainroad Contracting, the Capital Regional District, and others to ensure we had the support needed. That was no small feat considering the extent of damage across the SGI area.
A note of caution: BC Hydro called our incident command post to tell us to keep people clear of downed lines as they had no idea what parts of the system were, or might become, energized due to the storm damage. I heard that several Pender residents played a deadly game of chance with downed lines and even removed the fire department's warning cones so that they could drive under fallen trees wrapped in Hydro lines. This is illegal and can have deadly consequences.
Please ... never approach a downed line. Stay back at least 10 meters, and assume that the line and anything it touches is energized. If you see a downed power line, call 911 and report the location from a safe distance.
Please also remember that street address markers are your lifeline to emergency personnel including police, fire and ambulance. If we can't find your address, we can't get there to help. This isn't rocket science. Make sure your address is clearly marked, visible from both directions and clear of vegetation. It could save your life.
In March, we will open our doors to Cadet Camp 2019. Our goal is to inspire 25 youths between the ages of 15 and 18 years to follow in our footsteps. We will do that by exposing them to the great people who serve our communities in emergency response and support functions. I can't think of a better group to mentor these young people to become community leaders and champions for community safety.
If you would like to help, there are plenty of openings for support crew and responders alike. See more about the Fire/Rescue Cadet Camp on this website and, if you are able, make a financial contribution to this year's camp.
Thank you all and stay safe out there.
Fire Chief Charlie Boyte
Previous Reports
2019
2018
2017
2016
2015
2014
2013
2012
2011
2010
2009