Chief Charlie Boyte's report for July 2018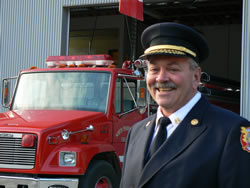 The volume of emergency calls – 92 in 2018 as of June 18 – motivates our volunteers to train, practice their skills and prepare for emergencies.
And, as we enter the summer months, our volunteers are also aware that wildfire is the number one threat to our safety and our property. This threat is compounded when more people are doing more things in and around the forest. It is also compounded by the lack of water supplies for firefighting, rural response times and the proximity of homes to forested areas.
May was the driest in history and that brought an end to open burning in mid-June. No outdoor burning is allowed in July, August, and September under the CRD Bylaw. Please watch for changes in the hazard rating on our fire signs and on this web site. These ratings affect the regulation of spark-producing equipment and tools within 300 meters of the forest or grass lands. The hazard rating is updated and explained on this web site.
May was also a grim reminder of the wildfire threat … the anniversary of the 2016 Fort McMurray wildfire that claimed 3,244 homes and buildings. It was the costliest insured loss in Canadian history with direct and indirect costs pegged at $9.8 billion.
There is no doubt that the Penders will face a significant wildfire risk again this year. Whether you call it global warming or climate change, the bottom line is we are seeing extended periods of dry hot weather and more extreme weather events than ever before.
This year the coastal wildfire threat could be five times greater than last year. Across BC in 2017, there were 1,300 fires between April and November costing more than $564 million. Thousands of BCers were displaced and 1.2 million hectares burned.
It is the human and environmental costs that most concern us. Each year, the island population swells with returning friends and neighbours with seasonal residences, and with visitors. When folks are unaware of fire risks the potential for wildfires increases exponentially. Help us connect with our part time residents and visitors. They are the most difficult to reach.
Please ensure everyone in your neighbourhood knows to immediately report any fire, careless behaviour or smoke of unknown origin. Early reporting and response are essential to successfully contain fires. We need all of you to accept responsibility for keeping your homes fire safe, inside and out, because house fires start wildfires and vice versa. Google the Firesafe and Firewise sites to see what you can do to protect your homes. Ensure that your homes and cabins have working smoke alarms (less than 10 years old with new batteries) and call 911 immediately when fires occur.
We also need your help to stop human caused fires. We receive many complaints about smoking materials found on the sides of the road. If you see someone throwing a cigarette from a vehicle, get the licence plate number, stop your car safely and put the butt out. Then call the RCMP on the non-emergency number (250-629-6171) and report the incident. RCMP will gladly follow up; this is a serious offence carrying fines of up to $2,000. We need you to witness, act on, and defend our islands from these risky behaviours. You can make a difference.
Over the next few months, Pender Island Fire Rescue will be doing our best through wildfire prevention initiatives, education, and early response. For the 11th year, we will deliver the Southern Gulf Islands Wildfire Prevention Program at the BC Ferry terminal at Swartz Bay, and we are asking BC Ferries and Parks Canada to help us on the other routes with notices and announcements.
We will also be at the Farmers Market and other venues. Captain Adrian Hanson will be at the helm spreading our message that fire prevention and awareness are our best defense. Please give our volunteers your full support and be safe out there!
Fire Chief Charlie Boyte
Previous Reports
2018
2017
2016
2015
2014
2013
2012
2011
2010
2009