Chief Charlie Boyte's report for November 2019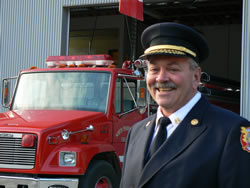 HELP WANTED: PIFR has answered more than 200 calls for service so far this year. And, now we are hoping you will "Answer the Call."
Pender Island Fire Rescue requires some more paid/on-call firefighters. We have redesigned training to minimize time away from work and family, making it much easier for you to take on this worthwhile role protecting your community.
The revised training program is designed to limit classroom time, opens opportunities for self-study on-line and it breaks practical training into manageable chunks every second Saturday. The program delivers professional, accredited NFPA 1001 training recognized across North America. This training typically costs as much as $16,000 and is prerequisite training for full time career firefighting jobs.
PIFR is a great place to be. Our volunteer/paid on-call service delivery model builds trust, security, and respect in our community. The model contributes to the social capital and fabric of our community by bonding community members from our diverse demographics in a common mission. As well, it creates amazing opportunities to link socio-economic groups through shared values. Over the years, this model has allowed PIFR members to support and nurture each other and work together to achieve great things.
If you want to be part of our amazing PIFR team – "Answer the Call." Contact us at 250-629-3321 or, better yet, make an appointment and bring your whole family out to see us at Hall #1 at 4423 Bedwell Harbour Road. We'd love to meet you in person.
Permits will not be required for outdoor burning after Nov. 1st, however, please remember that you must burn in accordance with the CRD Bylaw and Provincial Open Burning Smoke Control Regulations (OBSCR).
The OBSCR has been revised: Small back yard fires less than two meters in diameter and one meter high made with materials less than 10 cm in diameter, incinerators, and campfires are largely exempt from the changes under Section 5 of the regulation.
Please check with the fire department or make sure you understand the regulation. The OBSCR is enforced by Provincial Conservation Officers or RCMP and fines range from $5,000 to $200,000.
The regulation is online: www.bclaws.ca/civix/document/id/oic/oic_cur/0405_2019.
Large "Class A" fires (over two meters in diameter and one meter in height and fires that are machine piled) and now backyard piles with materials over 10 cm in diameter require special documentation and considerations under the new OBSCR. These fires require a permit year round. Permits for these fires must be obtained from the Fire Chief or a designate before lighting the fire.
Please remember that you must follow the regulations in the CRD bylaw when burning to ensure your safety and avoid fines for illegal fires. Burning regulations are posted on our website.
Here are tips to help you stay safe and within the law:
Burn only dry woody material. It is illegal to burn materials that produce toxic or noxious fumes.
Burn on days when the ventilation index is good.
Be considerate of neighbours. Smoke can be deadly to persons with breathing problems or other medical issues.
Maintain the distances from combustibles trees and fences as set out in the bylaw.
If you use a fireplace or woodstove, make sure your chimney has been cleaned.
Put fresh batteries in your CO and smoke detectors.
Never burn garbage, plastics, or other such materials that can produce deadly poisons.
Thanks in advance for your cooperation and support.
On November 7th our members will be supporting our Legion members at the Candlelight Service at the PI Cemetery and at the Legion Cenotaph on Remembrance Day, November 11th. On the weekend of December 1st we will be shaking the boot at the Driftwood Center to raise money and supplies for the food bank so please give generously to assist our Pender people in need. Thank You.
Until next month, stay safe.
Fire Chief Charlie Boyte
Previous Reports
2019
2018
2017
2016
2015
2014
2013
2012
2011
2010
2009