Chief Charlie Boyte's report for December 2017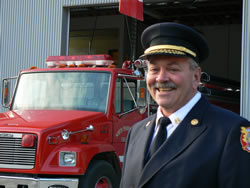 We have so much to be thankful for in 2017 that it is hard to know where to start. Certainly, "Volunteers Serving Community" is alive and well at PIFR. Our PIFR volunteers continue to serve with distinction. They keep us safe from harm through fire prevention work, inspections, burning regulation and they support more than 20 community events each year.
This year PIFR volunteers responded to structure, chimney, bush, and grass fires. Our volunteers went to the Interior of BC to assist the provincial efforts to protect our families and neighbours from the horrendous wildfires that ravaged those areas all summer. They attended vehicle accidents, hazardous materials incidents and rescues, and delivered lifesaving medical interventions time and time again. They endeavored to deliver services professionally with care and compassion every time and I know the people they served would say they were very successful in meeting that goal.
By November 15th this year, PIFR had attended 294 emergency calls making 2017 our busiest year ever. We experienced extended periods of extreme fire hazard and successfully came through unscathed while wildfires raged all around us in Washington, California, the BC Interior and Alberta. We were successful in our prevention efforts thanks to a comprehensive public education campaign delivered by committed volunteers and a community that was well-educated and aware.
This year we will see the completion of the new live fire training facility thanks to a huge grant from the province, an amazingly supportive community, and a ton of hard work by a few exceptional people. We hope to have a ribbon cutting and grand opening ceremony early in the New Year.
There are many ways to help us serve our community better so if you have a hankering to give PIFR a little something for Christmas and can't help in person, a financial contribution would be a good choice. (And, get you a tax receipt.)
If you think you would like to be part of our team, we can always use more help. If you are industrious, caring and physically fit we offer professional training to the internationally recognized NFPA 1001 firefighter standard. If you would like to help in other ways, we can offer a training stream that suits your interests. For more information, please call us at 250-629-3321 or click the "Helping PIFR" icon on the website home page.
The winter winds and rain are upon us. Stay clear of downed hydro lines; never assume they are safe to approach.
As you prepare for the festive season, take time to check for household fire hazards before rushing off to the ferry. Unattended electric heaters, wood stoves, candles, clothes dryers, stoves, and portable appliances are leading causes of house fires. Good safety tips can be found at www.nfpa.org/winter. There are some great short videos for adults and youngsters.
PIFR's effectiveness is the result of tremendous effort behind the scenes. This year PIFR staff, volunteers and support crews will have donated more than 17,000 hours of volunteer time in a relentless effort to serve Pender's residents and visitors.
Our sincere thanks to the Pender Island Fire Protection Society and its volunteer Board of Directors for their time, guidance, support and wisdom. They are the unsung heroes of PIFR and we wish them all a wonderful holiday season and exceptional 2018.
The statement "Volunteers Serving Community" certainly reflects the nature of our organization but it also reflects the nature of so many others on the Pender Islands like Nu-To-You, the Library, the Legion and a host of others.
On behalf of myself and all the volunteers, staff and board of directors at PIFR, we thank all our Islands Volunteers for their work and support. Our sincerest wishes for a happy and safe holiday season and the best year ever in 2018.
Fire Chief Charlie Boyte
Previous Reports
2017
2016
2015
2014
2013
2012
2011
2010
2009